PRODUCT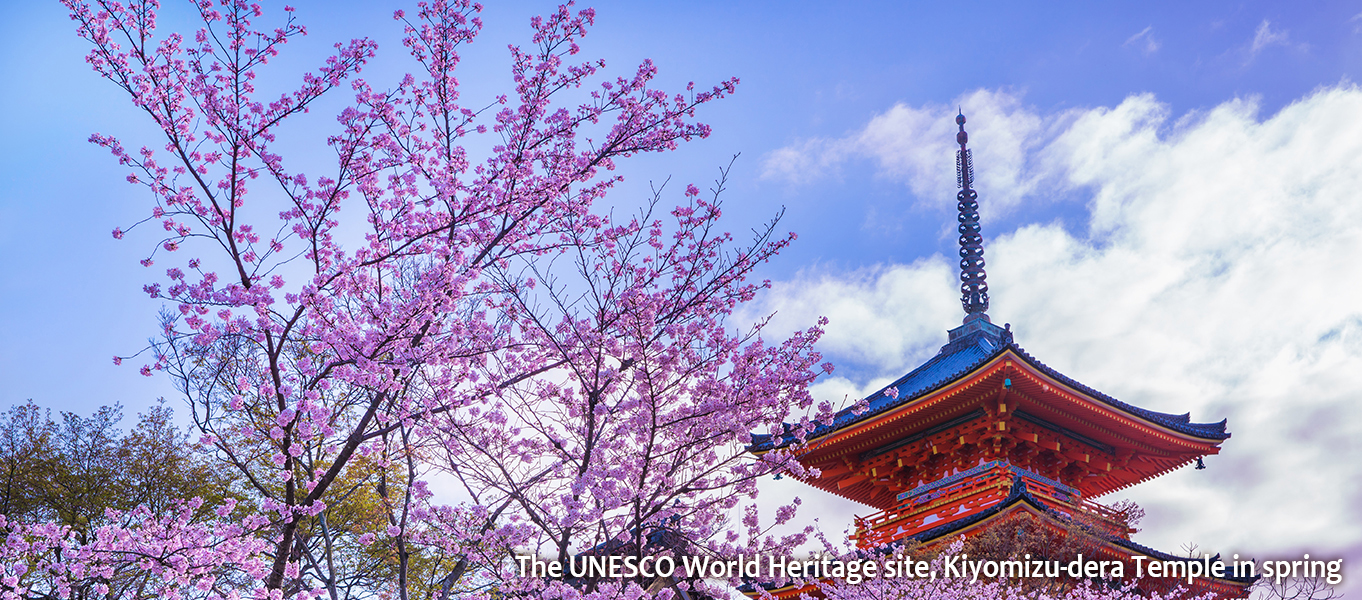 Karl Fischer Moisture Titrator (Volumetric titration)
MKV-710B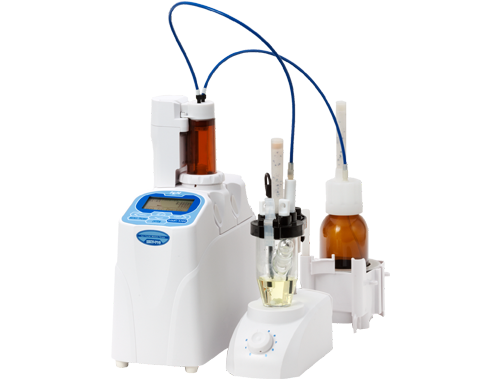 High-performance titrator at a lower price
Inquiry
Features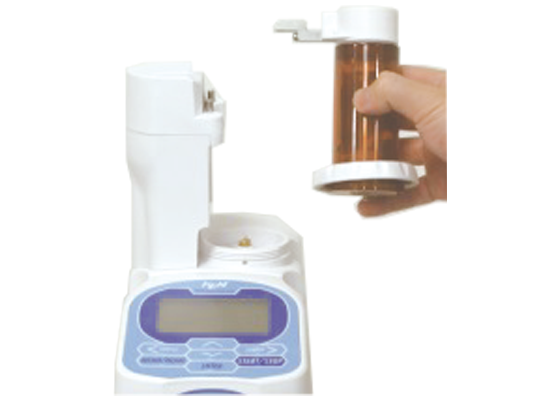 ・New burette unit
The new burette unit has the switching valve mounted directly on top of the
cylinder. Less dead space between the switching valve and the cylinder and it
inside of the cylinder left less residual titrant when replacing it.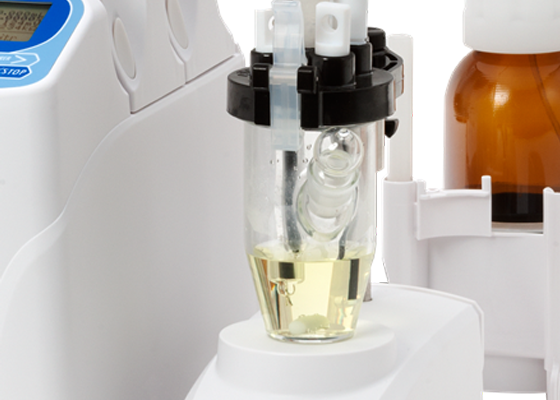 ・No need to adjust settings for different types of solvent and samples
Our proprietary technology (endpoint detection by compensating liquid resistance, Japanese Patent No.1896338) makes it unnecessary to change the detection electrode sensitivity and the endpoint voltage depending on the nature of each solvent and sample.
This feature reliably prevents over titration and ensures highly accurate measurements.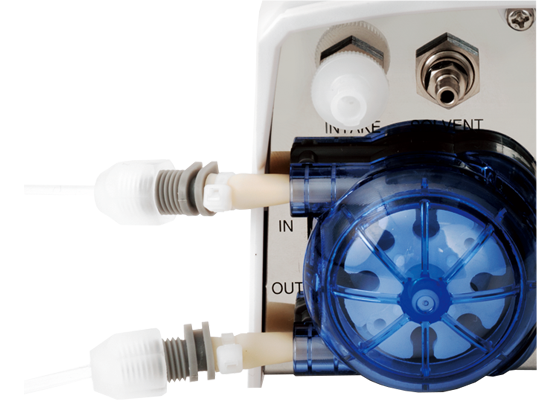 ・Easy injection/drain of dehydrated solvent
The stirrer unit is equipped with a pump for injecting/
draining dehydrated solvent.
Once you set the operating time of the pump with the internal timer, the optimum quantity of the solvent is automatically injected.
New burette unit
Measurement results are converted to PDF and can be stored in a USB flash drive
End point detection by compensating liquid resistance is adopted. (Japanese Patent No. 1896338)
Can resume titration automatically after interruption
By connecting an Android device , a titration curve can be displayed in real-time
Specifications
Type
Karl Fischer Moisture Titrator
Model
MKV-710B
Standard configuration
MKV-710+IDP-100+Manual Solvent Change unit
Measuring method
Karl Fischer Volumetric titration
Measuring range
1) Water content : 0.1 to 500mgH2O (depends on KF reagent factor)
2) Concentration : 1ppm to 100%H2O
Burette precision
10mL burette +/- 0.015mL ; reproducibility +/- 0.005mL
Endpoint detection
By polarized potential level detected with a twin platinum electrode
EP sense method
Detection of potential level maintained during preset end time.
End time range : 1 to 99s
Titration form
Normal titration / Back titration (Option additional burette required)
Required solvent
30 to100mL (in S-type titration vessel)
Method
20
Key operation
Sheet key
Displays
1) Black and white LED-backlit LCD
2) English / Japanese / Mandarin Chinese / Korean / Russian / Spanish
3) 1-channel display
Calculation
Concentration of water content , statistics data processing (mean , SD and RSD) and automatic averaging of blank value and factor value
Data storage
100 samples
GLP conformance
Registration of operator /Record of check results / Record of factor measurement / Management of conduction time
External I/O
RS-232C port x2 :
for Dot matrix printer , Electronic balance , Data Capture Software (SOFT-CAP)

USB×1 :
for USB flash drive , Thermal printer , Keyboard , Barcode reader , Foot switch , USB HUB , Android device
Extensibility
Automatic piston burette : Can control max 2 burette drives
(Including two built-in burette drives)
Ambient condition
1) Temperature : 5 to 35°C
2) Humidity : 85%RH or below (no condensation)
Power source
AC100 to 240V +/- 10% 50/60 Hz
Power consumption
Main unit : Approx. 20W
Printer : Approx. 7W
Dimensions
Titration unit : 141(W) x 292(D) x 367(H) mm (not incl. tubing)
Stirrer : 107(W) x 206(D) x 322(H) mm (not incl. Solvent Change unit)
Solvent Change Unit : 240(W) x 140(D) x 400(H) mm (not incl. tubing)
Printer : 106(W) x 180(D) x 88(H) mm
Weight
Titration unit : Approx.4.0kg
Stirrer : Approx.2.0kg
Solvent Change Unit : Aprox.0.6kg
Printer : Aprox.0.4kg
Conformity standard
CE marking EMC : EN61326-1 LVD : EN61010-1 RE Directive
Burette unit EBU FCC Part15 SubpartC FCC ID : 2ABSVEBU01
Standards
ASTM D1123 Standard Test Methods for Water in Engine Coolant Concentrate by the Karl Fischer Reagent Method
---
ASTM D1364 Standard Test Method for Water in Volatile Solvents (Karl Fischer Reagent Titration Method)
---
ASTM D4377 Standard Test Method for Water in Crude Oils by Potentiometric Karl Fischer Titration
---
ASTM D4672 Standard Test Method for Polyurethane Raw Materials: Determination of Water Content of Polyols
---
ASTM D6869 Standard Test Method for Coulometric and Volumetric Determination of Moisture in Plastics Using the Karl Fischer Reaction (the Reaction of Iodine with Water)
---
ASTM E203 Standard Test Method for Water Using Volumetric Karl Fischer Titration
---
European Pharmacopoeia / 2.5.12. WATER: SEMI-MICRO DETERMINATION
---
ISO 14897 Plastics -- Polyols for use in the production of polyurethane -- Determination of water content
---
ISO 7335 Iron ores -- Determination of combined water content -- Karl Fischer titrimetric method
---
ISO 760 Determination of water -- Karl Fischer method (General method)
---
JIS C2101 Testing methods of electrical insulating oils
---
JIS K0068 Test methods for water content of chemical products
---
JIS K0113 General rules for methods of potentiometric, amperometric, coulometric, and Karl Fischer titrations
---
JIS K1557-2 Plastics -- Polyols for use in the production of polyurethane -- Part 2: Determination of water content
---
JIS K2275-2 Crude petroleum and petroleum products -- Determination of water -- Part 2: Potentiometric Karl Fischer titration method
---
JIS M8211 Iron ores -- Method for determination of combined water content
---
JIS M8250 Iron ores -- Determination of hygroscopic moisture in analytical samples -- Gravimetric, Karl Fischer titration and mass-loss methods
---
United States Pharmacopeia–National Formulary / 38 <921> WATER: DETERMINATION
---
Catalog
■General-Catalog.pdf
■Software for Moisture Titrator KF-Win.pdf
■KEM-SET-for-Petrochemical.pdf
■KEM-SET-for-Palm-Oil.pdf
■KEM-SET-for-Food.pdf
■KEM-SET-for-Cosmetics.pdf
■KEM-SET-for-Beverage.pdf